Files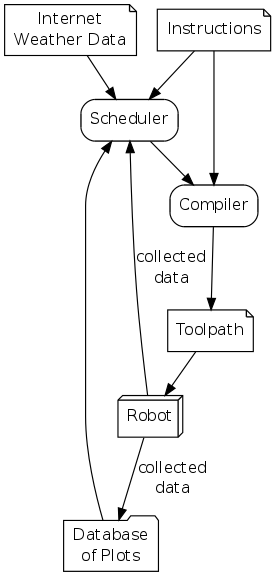 Contained Data
Sowing

Season start / end dates (regionally specific)
Spacing
Depth
Compost quantity
Initial watering

Monitoring

Typical area / height occupied over time
Harvest season start / end dates (regionally specific)
Possible forms
May take the form of a properties file with various expected values or perhaps a simple language.
Properties file option

Simpler to understand and adjust.
Procedures (e.g. plough techniques) need to be defined elsewhere.

Language file option

Allows more innovation.
Monolithic grow file containing all procedures (e.g. plough techniques).
Separate included files containing procedures.
At what point to the instructions become machine specific?
Compiler
The instructions are compiled into tool paths specific to the plot that the work is to be carried out on by the robot.