Small thermal printers commonly used for printing receipts have become more affordable and can be useful for all sorts of projects like interactive exhibits, custom Point Of Sale system or just printing notes.
The ESC/POS specification can be found in this document from EPSON however the functionality actually implemented in each model of printer varies.
This ZJ-5802LD printer from ebay can be connected with USB, serial or Bluetooth and contains a lithium battery allowing printing from mobile phones or tablets in the field.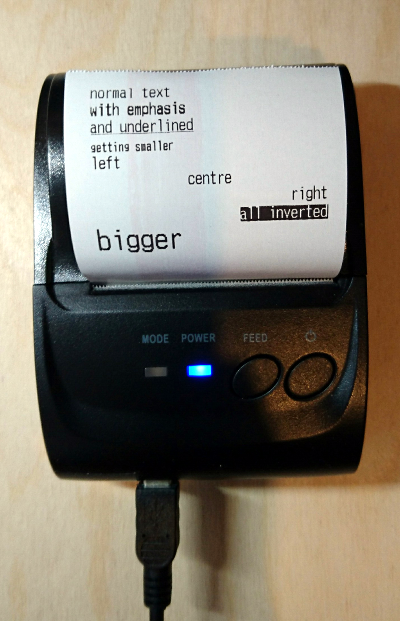 This example implements all the text functionality of the ZJ-5802LD printer and produces the output shown above. We are connecting the printer using the USB port which is presented as /dev/usb/lp0 in Linux.
In a future post I will cover printing barcodes and images.



#!/usr/bin/env python



NUL = 

0x00

 

# null


LF = 

0x0a

  

# line feed


ESC = 

0x1b

 

# escape


GS = 

0x1d

  

# group selector



FONTA = 

0x00

 

# normal


FONTB = 

0x01

 

# small


EMPHASIS = 

0x08


DOUBLE_HEIGHT = 

0x10


DOUBLE_WIDTH = 

0x20


UNDERLINE = 

0x80



NORMAL = 

0


SMALL = 

1



LEFT = 

0


CENTRE = 

1


RIGHT = 

2





def

 reset(stream):
    stream.write(

chr

(ESC))
    stream.write(

"@"

)



def

 mode(stream, value):
    stream.write(

chr

(ESC))
    stream.write(

"!

%s

"

 % 

chr

(value))



def

 emphasis(stream, value):
    stream.write(

chr

(ESC))
    stream.write(

"E

%d

"

 % (

0

, 

1

)[value])



def

 underline(stream, value):
    stream.write(

chr

(ESC))
    stream.write(

"-

%d

"

 % (

0

, 

1

)[value])



def

 font(stream, value):
    

assert

 value >= 

0

 and value <= 

2


    stream.write(

chr

(ESC))
    stream.write(

"M

%d

"

 % value)



def

 justification(stream, value):
    

assert

 value >= 

0

 and value <= 

2


    stream.write(

chr

(ESC))
    stream.write(

"a

%d

"

 % value)



def

 inverted(stream, value):
    stream.write(

chr

(GS))
    stream.write(

"B

%d

"

 % (

0

, 

1

)[value])



def

 main():
    stream = 

open

(

"/dev/usb/lp0"

, 

"wb"

)

    

try

:
        reset(stream)
        stream.write(

"normal text

\n

"

)

        emphasis(stream, 

True

)
        stream.write(

"with emphasis

\n

"

)
        emphasis(stream, 

False

)

        underline(stream, 

True

)
        stream.write(

"and underlined

\n

"

)
        underline(stream, 

False

)

        font(stream, SMALL)
        stream.write(

"getting smaller

\n

"

)
        font(stream, NORMAL)

        justification(stream, LEFT)
        stream.write(

"left

\n

"

)
        justification(stream, CENTRE)
        stream.write(

"centre

\n

"

)
        justification(stream, RIGHT)
        stream.write(

"right

\n

"

)

        inverted(stream, 

True

)
        stream.write(

"all inverted

\n

"

)
        inverted(stream, 

False

)

        reset(stream)
        mode(stream, DOUBLE_WIDTH | DOUBLE_HEIGHT)
        stream.write(

"bigger

\n

"

)

        stream.flush()

    

finally

:
        stream.close()



if

 

__name__

 == 

"__main__"

:
    main()